In the Suicide Club - a twenty-year-old at the Somme
WHEN PHILIP ORR'S The Road to the Somme was published by the Black staff Press in December 1987, the author kindly signed and inscribed a copy to David Laverty. 1 called to deliver the book and told him that I hoped it would not bring back too many sad memories. His response to me was not to worry - he would 'enjoy looking at the picture!' For four hours the wee man regaled me with his recollections of his service in the 12th Battalion (Central Antrim Volunteers). Royal Irish Rifles.
Harry Irwin
DAVID JAMES LAVERTY was born on April, 18th, 1896 at Ballytober, Bushmills, Co Antrim, where his parents kept the local post office. In his late teenage years during the Home Rule crisis he joined the Ulster Volunteer Force. As he put it, 'We were not all that political. You became a member because your mates were in ití. When I asked about his memories of the Lame gun-running in April 1914 I was told that only the older members from his area were permitted to go down. 'We had to stay behind and look after Bushmills!'
In September 1914 he travelled to Ballymoney with his two best pals to enlist. David was the only one of the three to survive the war. The 12th Battalion trained at Clandeboye Estate, Co Down. He remembered one particular NCO who 'gave me a hard time'. He told me that he was a member of the 'Suicide Club'. When I replied that I didn't realise that he was a bomber he must have been impressed by my 'knowledge'; at least I assumed that from his wry smile.
As part of the 36th (Ulster) Division, the 12th Battalion were in the front line at Hamel, near Thiepval, in Northern France. He made sure to impress on me the fact that their badges (the battle patches) were 'half moons of powder blue'. A fellow Bushmills-man and pre-war UVF comrade, Robert Quigg joined them there as a member of his platoon. He was the batman to their Platoon Officer, Sir Harry Macnaghtan of Dundarave, as he had previously worked on the Estate. Davy remembered Quigg as 'a madman'. He wanted to kill all the Germans and to calm him down he was posted to the cookhouse and then to the bakery. However, even after his duties were over he was always along the parapet to see where the Germans were! So reckless was Quigg's behaviour that other soldiers from the battalion had a difficult time getting him to keep his head down to avoid getting it blown off.
One of his nastier memories of the time was the conduct of a captain from Bushmills, who ordered them, for his own amusement, to double-up in their full kit and gas masks, until they were exhausted and near collapse. 'He was a sadist. Three of us shot at him, you know. I aimed to miss but the other two didn't!'
A happier incident was the story of the spring at Thiepval. This was situated among rocks and was a very popular target for the German snipers. As he was small and quick on his feet a string was tied to his waist and he made a run for it. He made it safely and then reeled in the empty jerry cans lobe filled. He remembered it being a very hot sunny day, so after the exertion, he undid his collar and lay back to relax himself and to enjoy a drink of the cool, fresh water in his tin mug. Because of the long silence his mates became concerned for his welfare and in response to 'Davy, are you all right?' he started to kid them how wonderful the water tasted and how much he was enjoying it. Once it was in the can he remembered that there was always the taste of petrol afterwards.
Recalling the day of the 'Big Push', July 1st, 1916, obviously saddened him even after all those years. Especialy as he remembered being given a tot of strong drink shortly before the 'off at 7.30am. "I was a teetotaler and passsed my drink on but I can remember some poor lads who having drank a few 'extras' were incapable of even defending themselves after going 'over the top'. We were all tensed up and I can still picture Sir Harry at the end of the trench with a big pocket watch in his hand saying 'Calm down boys, we've plenty of time'." Sir Harry was killed minutes later and his body was never found. Whilst searching for his charge later, Robert Quigg brought in seven separate men who had been lying in no-man's-land. He never did find his officer and in September 1916 he was awarded the nation's highest medal for gallantry, the Victoria Cross, for his actions that day.
In the vanguard of the attack as a bomber David was within twenty yards of the German front line when he was felled by shrapnel. "I was knocked out and when I came to I had a terrible pain in my back and I could feel blood. I had a broken shoulder and the bone was out through the back of my tunic. I had enough wit to realise that I had only thrown two of my Mills bombs so there were four still in the waistcoat which I wore." He then demonstrated, in his nineties, how he had managed to wriggle out of the waistcoat in case a stray bullet or an aimed shot might have set the grenades off. I can still picture his little legs going at full pelt as he re-enacted his dilemma.
Realising that he was badly wounded, he then started to walk back to his own lines. By this time the reserves were moving forward and he could not understand why men were falling all around him. They were being shot! He encountered a Sergeant Major who examined him and ordered him back to a Casualty Clearing Station. His two abiding memories there were a kindly officer giving him a large square of chocolate to suck as he was forbidden water and, as he was waiting for treatment, watching another officer having his leg sawn off, until a nurse caught him on and blocked his view of those proceedings with sackcloth. He was evacuated and spent some months in a large military hospital in County Tipperary.
Fully recovered, he then re-enlisted in Dublin. Although he remained silent when the company asked if anyone had previous active service, someone identified him and he was immediately promoted to sergeant. Arriving back in France to join his battalion, he was shocked at how few familiar faces were there. However, his old adversary from his Clandeboye days was still there and Davy's warning to him was 'I'm going to make your life Hell - I have the stripes now!' indicating his sergeant's insignia. His mates urged him to be on his guard as 'that boy will shoot you, Davy.' but he gave him all the 'dirty' jobs -night wiring parties, etc.
He returned just in time for the great battle of Messines, where he was gassed. (All through the time that he talked to me that evening in 1987 he continually coughed - still suffering the after-effects). Recalling very happy memories of serving and fighting beside the 16th (Irish) Division at this time he particularly relished the inter-divisional boxing matches. "They were great fellows and we got on the best but they were big, clumsy lads and we were smaller and quicker. They never laid a punch on us."
Despite his experiences and actions at the Somme and Messines he was lucky enough to live through the whole conflict and he remained in Germany after the ceasefire as a member of the occupying battalion of the Rifles. He finally arrived back at Leith Harbour in Edinburgh in 1919 to receive "a pat on the back and twenty-five pounds, and then had to make my own way home."
His brother Willie had also served in the Royal Irish Rifles, in the 14th Battalion (Young Citizen Volunteers) but had lost an arm. He later worked in the Belfast shipbuilding firm, Workman Clark, in the 'wee yard' as a Timekeeper. David was in 'digs' in the Ravenhill Road area where he met and married Ellen. She had only died a short time before I spoke to him, in her mid-nineties. David worked as a window cleaner and later went into business on his own account. (He kept me laughing at his many experiences on his rounds. He had a wicked sense of humour). He reared two sons who live in Belfast and Canada. During the Second World War he served in the Civil Defence.
I asked him if he ever attended any remembrance or memorial services to be told that he had not received his army pension for fifty years! This had obviously embittered him. His last outing he mentioned had been in the early 1950s when his old UVF colours had been laid up in a Mallusk church.
As I took my leave of him I expressed my thanks and assured him that it had been a privilege to have talked to him. His response was to 'catch yourself on' and to come back again-when he would get his photographs and medals out. Sadly it wasn't to be as his health declined and he died in the Ulster Volunteer Force Hospital, Circular Road, Belfast on July 25th, 1988. It was certainly ironic that the spent his final days in James Craig's former home where things began over 75 years before.
David Laverty was a wee gentleman and one of Ulster's unsung heroes - although he would have been the last to admit it. I will never forget the twinkle in his eye as he recalled the good and the bad times. But most of all he remembered the comradeship of the Ulster Division.
Harry Irwin
Published by permission of the author.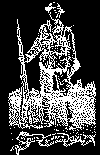 Messines. June 17th, 1917
A Memory
It seems but yesterday since we,
With flashing eye and naked sword
Uncowed by hell's artillery
Kept faith with country and with God.
''Twas June, arid nature stood revealed
In all its beauty, yet we knew
Tomorrow's sun would surely yield
The meadowed fields a crimson hue.
We thought of home - the hills of Down
Seemed far away, and yet we saw
With dreamy eyes Slieve Donard's crown
Erect above the clouds of war.
Beyond Messines our vision swept
O'er white-foamed sea and golden strand
And silently teach spirit kept
A tryst beneath the Crimson Hand.
Thomas Carnduff
Songs from the Shipyards and other poems
Thornton, Belfast 1924.